Facebook had dominated the social media landscape among America's youth – but it is no longer the most popular online platform among teens, according to a new Paw Research survey. Today, roughly half (51%) of teens ages 13 to 17 say they use Facebook, notably lower than the shares who use YouTube, Instagram or Snapchat.
YouTube, Instagram and Snapchat are the most popular online platforms among teens. Fully 95% of teens have access to a smartphone, and 45% say they are online 'almost constantly'
This shift in teens' social media use is just one example of how the technology landscape for young people has evolved since the Center's last survey of teens and technology use in 2015. Most notably, smartphone ownership has become a nearly ubiquitous element of teen life: 95% of teens now report they have a smartphone or access to one. These mobile connections are in turn fueling more-persistent online activities: 45% of teens now say they are online on a near-constant basis.
The survey also finds there is no clear consensus among teens about the effect that social media has on the lives of young people today. Minorities of teens describe that effect as mostly positive (31%) or mostly negative (24%), but the largest share (45%) says that effect has been neither positive nor negative.
Teens have mixed views on the impact of social media on their lives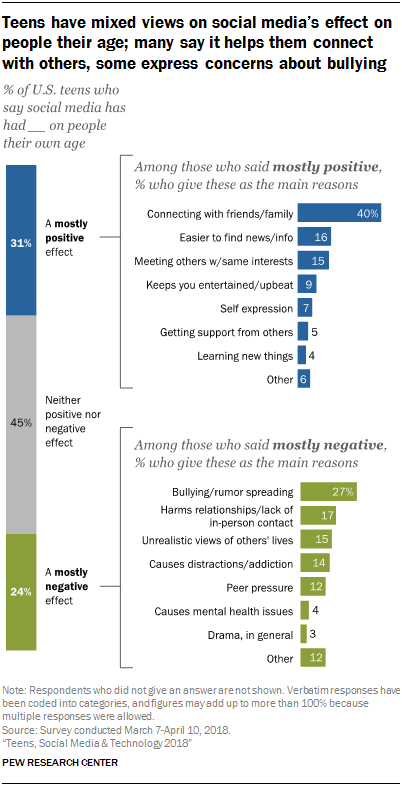 A plurality of teens (45%) believe social media has a neither positive nor negative effect on people their age. Meanwhile, roughly three-in-ten teens (31%) say social media has had a mostly positive impact, while 24% describe its effect as mostly negative.Many of these responses emphasize how social media has made it easier to communicate with family and friends and to connect with new people:
"I think social media have a positive effect because it lets you talk to family members far away." (Girl, age 14)

"I feel that social media can make people my age feel less lonely or alone. It creates a space where you can interact with people." (Girl, age 15)

"It enables people to connect with friends easily and be able to make new friends as well." (Boy, age 15)
Others in this group cite the greater access to news and information that social media facilitates (16%), or being able to connect with people who share similar interests (15%):
"My mom had to get a ride to the library to get what I have in my hand all the time. She reminds me of that a lot." (Girl, age 14)

"It has given many kids my age an outlet to express their opinions and emotions, and connect with people who feel the same way." (Girl, age 15)

"It has a negative impact on social (in-person) interactions." (Boy, age 17)

"It makes it harder for people to socialize in real life, because they become accustomed to not interacting with people in person." (Girl, age 15)

"It provides a fake image of someone's life. It sometimes makes me feel that their life is perfect when it is not." (Girl, age 15)

"[Teens] would rather go scrolling on their phones instead of doing their homework, and it's so easy to do so. It's just a huge distraction." (Boy, age 17)
Another 12% criticize social media for influencing teens to give in to peer pressure, while smaller shares express concerns that these sites could lead to psychological issues or drama.